Close
Name:
Andrew Kiefer
Observation Date:
November 23, 2020
Submitted:
November 23, 2020
Zone or Region:
West North
Activity:
Skiing/Snowboarding
Location:
Chain Lakes Loop
Did you observe any avalanches?
Yes
Avalanche Type:
Soft Slab
Size:
Size 1: Relatively harmless to people
Elevation:
4500
Aspect:
N
Comments:
Small, shallow soft slab failed naturally within recent wind drifted snow early morning on 11/23.
Photo: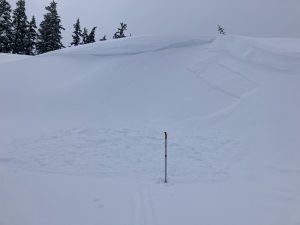 Did you see shooting cracks?
Yes, Isolated
Did you experience collapsing or whumpfing?
No

Chain Lakes Loop/circumnav of Table Mountain. Traveled through elevations ranging 4200-5500ft and on all aspects. Light snowfall throughout the day with southerly winds becoming calm by mid-morning. Obscured skies with poor visibility above 5000ft. Very brief periods of filtered sunshine.

The height of snow ranged from 40-60in. New snow since 11/23 (4-6in) well bonded to variable old snow surfaces (MFcr, DF). Minor wet loose activity on steep solar aspects in the afternoon. The snowpack is uniform and strong with no significant layers of concern. Good ski quality on all aspects.
Observed Avalanche Problem #1:
Wind Slab

Comments:
Strong southerly winds redistributed 4-6in new snow since 11/22 into 4F hard windslab, primarily in northerly terrain above 4500ft. Quickly gaining strength and need > 40-degree unsupported slopes to trigger. Small but widespread cornice development over the past 48hrs ATL. Close